The German Side of The Blues *english version (by Julio Siqueira)
Have you heard of a german musician called Henrik Freischlader? If yes see below an exclusive interview he gave to Guitar Experience, if not, read the interview and research about, I'm sure you will like.
Henrik Freischlader is a workaholic when it comes to music, besides singing, playing guitar and various other instruments he is a composer, producer and has its own label. Henrik have 6 studio albums, including the one that will be released in April 2016 and 3 more live albums.
With a respectable discography and high quality music, Henrik has an extensive agenda for shows across Europe in addition to having played with some great legends of music.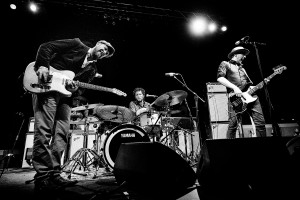 Hi Henrik! Thanks for the opportunity.
Hi Julio, is very nice talking to you there in Brazil, the band and I would love to play for you in one of these days.
Besides guitarist and singer, you are also a composer, producer and play a lot of instruments (bass, drum, keyboard, percussion, etc). I would like to know, how your story with music began?
I started playing drums very early when I was a little child. My father played the drums in an oldie band and he would let me check out his drum kit from time to time. I was four years old when music had me mesmerized. The drums were my main instrument until we moved places, then it got too loud for the neighbors and I had to switch to the guitar. I was 14 or 15 years old then and heard Gary Moore's 'Cold Day in Hell' solo for the first time. It made the switch very easy and he really got me into playing the guitar. He's the reason why I play the guitar and why I love the blues.
In the meantime, I had the chance to check out other instruments, too. There was a period when I was really into playing the bass – this was when I was 17 or so. My mom actually gave me a bass for Christmas and I took it with pleasure haha
Did you have teachers?
 Apart from all the wonderful music and artists I was listening to, no. I somehow 'had to' take piano lessons which I really didn't like…today I don't remember anything from what I learned from those lessons and I'm a very bad piano player. For me, it works best to get hit by something and then to get into it…because you are interested in it by yourself.
When did you realize you could be a professional musician?
 I don't even know if I am a professional musician  haha. I am a passionate musician, I love what I do, and I'm grateful to be able to do what I do! And when the Lord gave me this huge present to be able to feel this love, I realized that I wanted to make something out of it. And this is what I'm trying to do
What made you want to play blues? Who are your influences? Have you had a chance to play with any of them? How was it?
 Actually it was Gary Moore again and the sound of his guitar. The way he played and said so much with every single note. I guess we don't even know how inspiration really works but it always needs a true and deep admiration in the first place. And I just admire a lot of music and other things Gary had some guest features on his albums. Peter Green, BB King, Albert Collins, Albert King. I got into them, too. They got me into other artists, into their influences. That's the way it works. Today, I love listening to D'Angelo a lot, to black music and soul. I'm even producing a neo-soul album for a Scottish girl at the moment…maybe because I saw four D'Angelo shows last year haha. The Blues, for me, is always the base for everything I do. The groove, the simplicity, the power, and the honesty…and the feeling that you have when you're listening to it.
Yes, we had the pleasure to share the stage with BB King, Gary Moore, Peter Green, Johnny Winter, Joe Bonamassa, and the Tedeschi Trucks Band.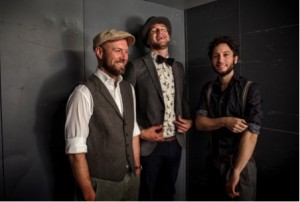 I know you've played with Joe Bonamassa and he even has a participation in your CD Still Frame Replay, how did you meet Joe?
 I met Joe on one of his first tours in Germany when I had the opportunity to be his supporting act together with my first trio. We became friends and he said 'yes' when I asked him if he would play on the title track of Still Frame Replay. We always try to meet up when he's playing in Germany.
In addition to an excellent musician, like you, Joe Bonamassa is known for collect guitars, I would like to know if you also have this "mania"? 
 Not really, I have a small and good family of eight guitars I really love, and this way already, I always feel as if one of them doesn't get enough love and attention from me  So I like to keep it simple in order to not feel bad haha.
If yes, what is your favorite guitar?
 All of them!
What are the equipment you normally use?
 For the upcoming gigs with the new trio, I will use my Realtone Signature Amp, a Fender Vibrolux, a 1968 Fender Leslie Cabinet and two 2×12 Fender Cabinets loaded with blue and silver Alnico Bulldog speakers. I want a strong vintage sound for this band! I'll bring my 1969 Fender Telecaster and gold Fender Strat with a P-90 in the bridge. This is what I know so far – ideas for pedals and stuff are still in the making…Clyde Wha, Fulltone Octafuzz, RC-Booster, and some Lehle Switch for the amps.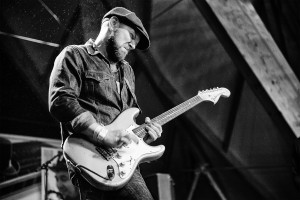 You are releasing a CD called Openness, this is their sixth studio album, correct? Could you tell us a little about it?
 Yeah, you're very well informed. Of course, it's music with a lot of love for the detail. It's about groove, trying to play the right notes at the right time, and of course, it's all about the new band and about how we play together. Lyrically, it's just what was going on in my mind when I wrote the songs It's easier to just listen to them than for me to explain, haha
Could you tell us about your band, who plays with you?
 Alex Grube on the bass! Big guy with a big sound, very sensitive regarding songs and melodies, and very often, we happen to play the same lick at the same time. Carl-Michael Grabinger on the drums! Cool guy with a cool beat, very laid-back, tight and sensitive regarding the right groove. I'm very happy to have them by my side – the gigs are going to be fun.
You have your own record label, Cable Car Records, where did this idea come from?
This idea really came from my wish to be independent and to be able to keep my music as free as possible. I also just wanted to bring back a little bit of style by releasing tapes and vinyl…beautiful things.
Do you have some tour dates for 2016 in Europe, correct? Are you planning to play in Brazil?
 Not planning, but wishing. We have around 50 gigs scheduled so far for this year, but there's still some free time during the summer. A brilliant Brazilian guitar player named Artur Menezes once wrote me a very nice email and wants to make it happen. Maybe we can all work together
The guys and I would love to play for you guys!
Do you know any Brazilian artist? Have you had any contact with Brazilian music?
With traditional Brazilian music you mean? Unfortunately, not yet, but I hope it will hit me when I hear it in the country where it's coming from.
But when Artur Menezes wrote me, I checked him out on the Internet and I was very impressed by his playing. It's so good to see that the blues is still alive, everywhere.
Henrik, thanks for the interview! We hope to see you soon playing in Brazil.
The pleasure is all mine, thank you for your interest. And so do I!